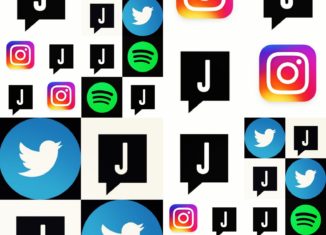 We started this blog as a hobby, and by way of sharing a recommendation like you would an old friend, lending somebody a DVD or making a mixtape with tunes you hoped would inspire somebody the way the music had inspired you.
As time goes on we find a lot of our activity takes place on our Twitter feed, and to a lesser extent our Instagram page, because they are ticking time bombs with eager followers just waiting for the next post. This blog less so; once it's up there it's not going anywhere any time soon. Dip in and keep coming back for more in your own leisure.
What we especially love about social media is the interaction. It's great to get those instant replies of "wow I love this song too" or "I never knew that!" and it's what keeps us going. Also, on the odd occasion you can actually interact with the stars(!) so tagging somebody or mentioning them in a post of their music or craft might see them reply or even choose to follow us. We thought we'd share some of the highlights so far on our journey, and it's probably the best way to convince you to follow (or even unfollow) us!
• Doves/Black Rivers
…In retrospect This song should have been put on lost souls!

— Black Rivers (@Black__Rivers) September 23, 2016
Very kind of you to say but prob catch the sun

— Black Rivers (@Black__Rivers) September 23, 2016
• Richard Ayoade
• Mike Joyce
• About a Boy/Rogue One director
• Tony Hoffer
• Clint Mansell
• Pete Doherty
• Metal Gear Solid
• Mark Tatulli (Lio) follows
Check out who else we having following us right here: http://thejournalix.com/join-us/
So what the hell are you waiting for?
http://www.twitter.com/thejournalix
http://www.instagram.com/thejournalix