One of our favourite festivals Sounds of the City is back in Manchester, and so are The Kooks! Chief music writer Alix headed out to review The Kooks SOTC 2019, read on…
SOUNDS OF THE CITY 2019
Castlefield Bowl is such a top Manchester outdoor venue. Easy to get to,  not too big, and the sound is always great. And it's played host to a variety of music genres from Kylie to The National, Hacienda Classical (ending the festival on Saturday) and tonight, The Kooks.
As shown through their social media they are very happy to be back in our great city and on a warm summer Friday night it seems everyone is more than happy to see them.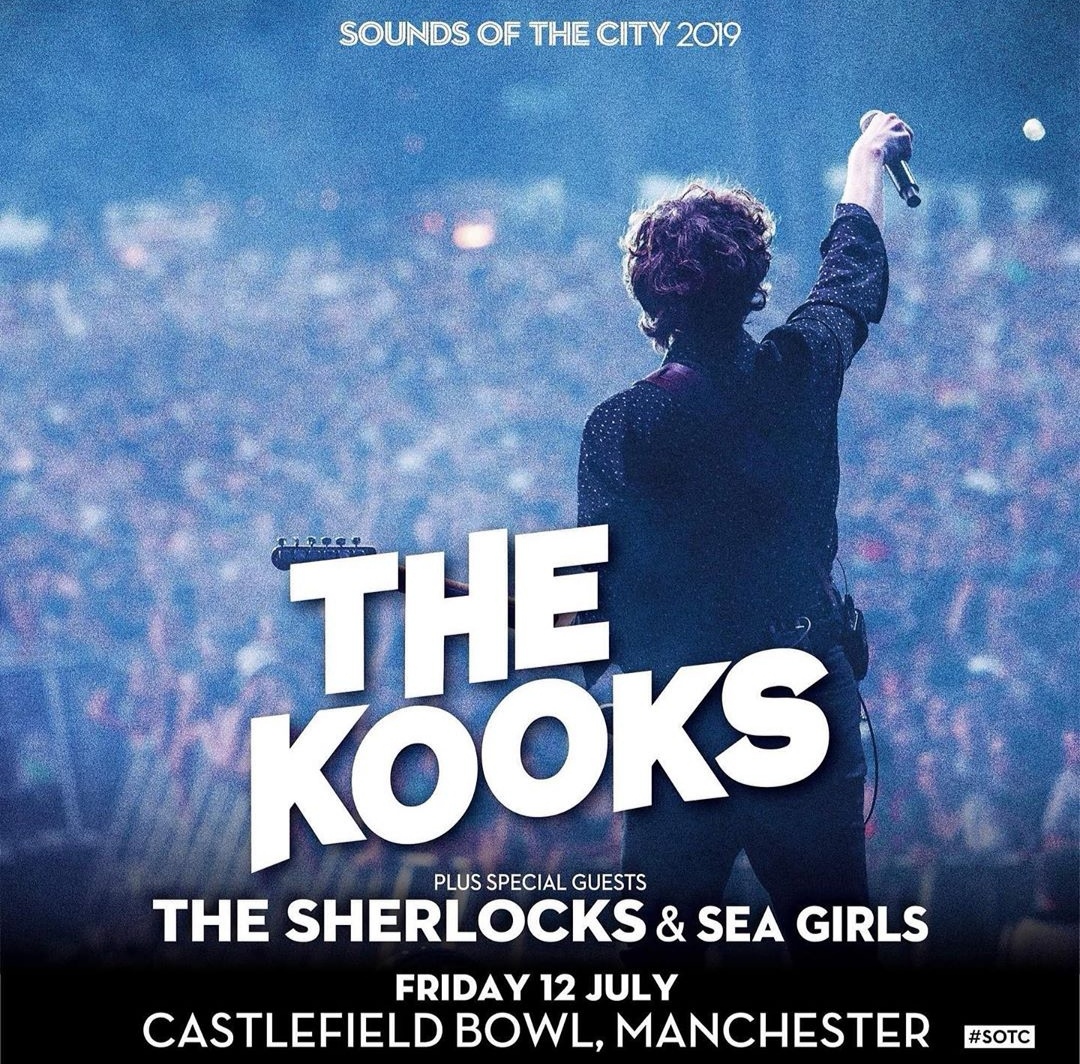 SEA GIRLS & THE SHERLOCKS
With supports from rising stars Sea Girls playing their 100th show tonight, then The Sherlocks, the crowd are in a great mood. The Sherlocks, who are yet to release their debut album, obviously have many fans here – they've brought flares as well as all the cheers!
THE KOOKS SOTC
Then, with a cool breeze drifting down the canal (!) the crowd are warmed up and ready for a mass sing song. Everybody looks happy tonight and with "Always Where I Need To Be" the party really starts. Everyone is jumping and dancing and The Kooks' frontman Luke Pritchard knows just how to bring the energy.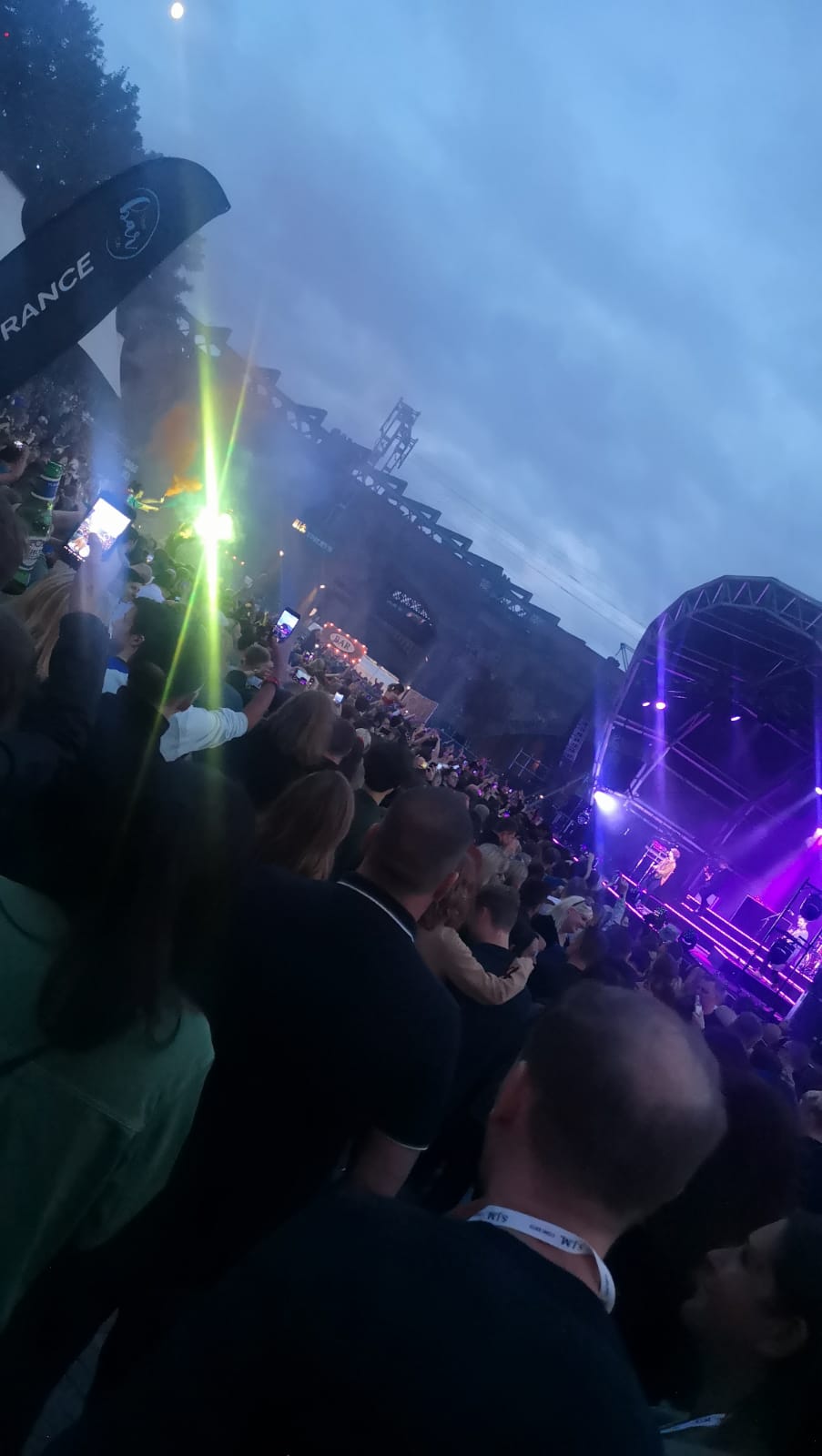 SOUNDING AS GOOD AS EVER
A very accomplished live band, The Kooks are sounding as good as ever. With 5 studio albums under their belt they have plenty of tunes to choose from. And they choose wisely! The hits just keep on coming. "She Moves In Her Own Way" gets massive cheers and "Ooh La" encourages a great big singalong.
It's obvious the band are enjoying it with plenty of smiles coming from the stage too. Luke declared the crowd to be full of beautiful people. Why, of course we are!
LOUD AND PROUD
With the crowd full of new gig goers (accompanied by parents), older couples and that typical young professional group of friends, the night continues to be nothing but joyous. "Be Who You Want To Be" is very well received. The neighbours might as well join in to "Bad Habit"… If they thought they were having an early night there's no choice with the crowd in full voice tonight!
CURIOUS SURROUNDINGS
Nestled in the heart of Castlefield, its always traditional to give a wave to the passing train on the bridge, and we do so again tonight. Everyone in the crowd also gives a quick glance to the jammy gets on the surrounding balconies , jealous at how lucky they are to have such a great free view for the best summer city gigs!
But tonight everyone is genuinely happy to be here and the crowd sway as one, as the mood changes for "See Me Now" and "Seaside". Luke Pritchard orders phone torches and people on shoulders, so the outline of the crowd changes somewhat but we're all loving it. We sound pretty good too, all joining in to form one impressive Manchester choir.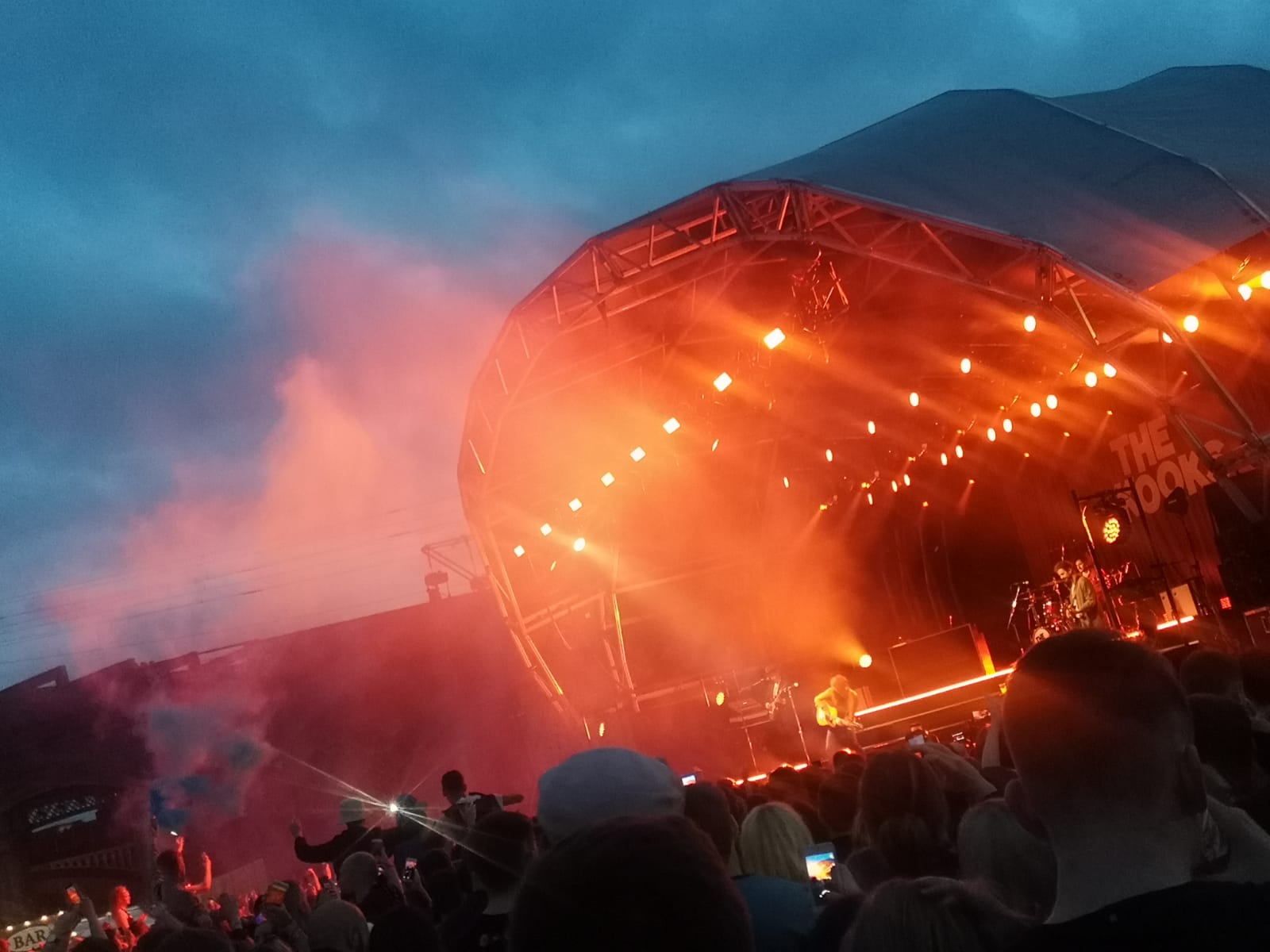 SHINE ON
"Shine On" is a fave of mine and goes down really well. "Do You Wanna" sounds great with the drummer really working hard and clearly having a top gig. The crowd (at least next to us) enjoy shouting the lines over and over again to the band. Admittedly, the accents are much more Manc than in the original version or those coming though the speakers!
ENCORE
With a two song encore The Kooks finish with "No Pressure" – we're all encouraged to have a cuddle with our friends; then "Naive". Of course, this is a much loved hit and we all love it much tonight.
Time for us all to filter out, happy, into the warm evening. Our summer continues, and this year the live music is providing us with a great soundtrack.
What's next?
---
Relive some of our gig reviews here – with a Bluedot festival preview coming soon!