The Big Moon have announced their new single 'Why' which is taken from their critically acclaimed Top 20 album 'Walking Like We Do'. In response to the worldwide COVID-19 emergency, the band have also contributed to 'Songs For The National Health Service', a one-off compilation album of exclusive, unreleased tracks by some of the biggest names in indie, with all proceeds funding specialist PPE for hospitals and NHS key workers via Hoods For Heroes. More info here. And this week The Journalix spoke exclusively to bassist Celia Archer…
THE BIG MOON INTERVIEW
THE J: Where are you all based at the moment?
CELIA ARCHER: All in our separate houses across London apart from Jules who is with family in Bristol. It's probably the longest we've all stayed at home in one place in the last 5 years since we started the band. My plants are very happy.
THE J: How are you coping with the lockdown? Do you find it gives you an opportunity to be creative or is it stifling?
CA: It comes in waves, like everything really. I swing between massive overwhelming paralysing worry for everything and everyone til I reach a breaking point and somehow manage to move into looking at things on a smaller scale – like OK I can't fix the world but I can get out of bed in the morning and put some clothes on. Then that moves in to feeling quite steady and content with living this smaller life.
I find the outside world can be really stressful at times and I really have been enjoying the fact that I don't really have to deal with other people and what they might need from me and that can lead to big bursts of productivity and creative enjoyment, but then guilt at being happy or enjoying anything creeps in and then the worry comes and the cycle starts all over again. It's also nice to see lots of people realise what they're capable of.
INFLUENCES
THE J: You've spoken about the likes of Weezer and Britpop being big influences on your sound, will that forever be?
CA: I think it's hard to be un-influenced by something and Jules will always play guitar like someone who loves Graham Coxon, but I guess all the different things that have influenced her love of music and her songwriting will get their time to shine at some point! It feels exciting to be working on a third album now. It feels like it could be anything. Free jazz! Spoken word! Who knows?!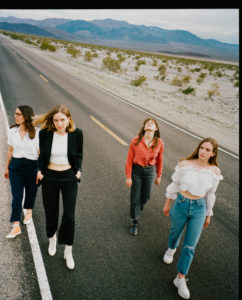 MANCHESTER
THE J: We have great memories of seeing you playing Neighbourhood in Manchester, what are your experiences of playing this particular festival and the city in general? We're big fans of guitars in this part of the world!
CA: Manchester is a great city to play in for us, probably because you love guitars so much. And we've played some great shows and had some of our funnest nights on tour there. We're absolutely heartbroken that Charlie's karaoke bar is closed though. If anyone can tell us the next best thing we'd be super grateful.
THE J: Let's see what's still standing after lockdown…
THE J: Has the landscape changed for The Big Moon as a female band since you formed in 2014?
CA: Well, we're still getting asked questions like this.
THE J: Touche.
THE SECOND ALBUM
THE J: There were 3 years between your debut album and Walking Like We Do – was that due to touring and promoting or refining this second record?
CA: All three! It wasn't really a decision though. It sort of just took as long as it did.
THE J: Is "Second Album Syndrome" a real thing? Btw it doesn't feel like it! But you must have felt the pressure to live up to a Mercury Music Prize-nominated artist?
CA: Yes it's definitely a thing. But Jules had to deal with most of that as the songwriter but she handled it amazingly and kind of moved through it during the writing process. Wrote it out of her system. We also took a year between finishing the first album cycle and recording the second album and in that time we just became very sure about what we were going to do and want we wanted going into recording. Then it was another year of honing that and everything around it before the album came out. There were so many tiny decisions that each felt so big that we debated and discussed, so that by the time it came out it was just how we wanted. We're so proud of this record, and we're so happy with how it was received.
ON PRODUCTION DUTIES…
THE J: You've worked with some stellar producers in Catherine Marks and Ben Allen, how did their styles differ and influence the records?
CA: Right?! We've been very lucky. They are both amazing. Making the first album with Catherine was the best. She is so fun and incredibly talented and she just helped us capture exactly what we wanted. Everything felt so wild and fizzy at that time and we were just trying to bottle some of it. I'm so glad that we have an imprint of that time forever.
Working with Ben was also a bit of a dream, he's made some of my favourite albums. When he came on board it felt like everything was going in the right direction. He really helped get us where we wanted to go and also to some places we didn't know we could go!
FOLLOW THE J
THE J: We picked Your Light as one of our Top 30 tracks of 2019 – what have you been listening to in 2020?
CA: Oh geeee thanks. Umm so much. New Waxahatchee album is gorgeous. Fetch the Bolt Cutters by Fiona Apple is devastatingly good. Like I can't really believe how good it is. And usually if everyone is saying something is so good I find it hard to have my own relationship with it. But it really is so good. Superstar by Caroline Rose is a total joy from start to finish, even the bits that are v painful, and the latest Dua Lipa album really hit at the right time for me. Anything Rosalia has graced us with this year. New Carseat Headrest is very tasty. And Sorry's debut 925 is pure angular sleaze.
RECORD STORE DAY 2020
THE J: You were the official ambassadors for Record Store Day 2020 – did the March gig go ahead as planned? Will there still be the special live album released?
CA: Yes! That was one of the last things we did. We'd played our London headline show the night before and then had to do a live to vinyl recording in front of a load of people. It was probably the best way to do something like that. When you're in the swing of tour things and not taking it too seriously. It was fun! Strange but fun.
THE J: What is it that makes vinyl so good? And what is your favourite vinyl record in your personal collections?
CA: I think it's because it feels like an event. Taking the time to sit with any one thing and be present for it is kind of a monumental experience right now and listening to a record on vinyl makes you do that. Being able to physically hold the creative output of someone you whose work you really love and respect is also a wonderful thing. My favourite and most played is this old Billie Holliday album I nicked from my parents' collection. It's called Billie Holliday – The Original Recordings. It's perfect.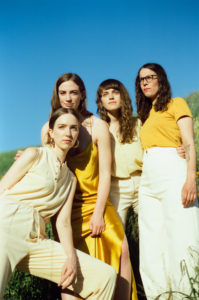 THE FUTURE FOR THE BIG MOON
THE J: You supported the Pixies in 2019 – does it get any better than that?
CA: Probably not. If we never get to tour again, at least we went out on a high.
THE J: What are your plans for the future, post-lockdown?
CA: WHAT EVEN IS THAT? who the fuck knows. Licking all my friends' faces is for sure my first move though.
THE J: Will there be another 3 years until we see a third album?
CA: If you're lucky.
---
Following their full UK support tour with Bombay Bicycle Club through January and February this year, and their own run of headline dates through late February and March, the band will be hitting the road for their biggest headline tour to date this October. The run of dates kicks off in Sheffield on 21st October, and takes in Glasgow, Newcastle, Manchester, Brighton, Cardiff and Birmingham, finishing up at London's The O2 Forum on 30th October. Tickets are on sale now via www.thebigmoon.co.uk
SUMMER DATES:
04 July – Halifax, The Piece Hall (w/Kaiser Chiefs)
05 July – Halifax, The Piece Hall (w/Kaiser Chiefs)
30 Aug – Lincoln, Lost Village
05 Sept – Warrington, Neighbourhood Weekender
AUTUMN HEADLINE TOUR:
21 October – Sheffield, The Leadmill
22 October – Glasgow, The Garage
23 October – Newcastle, Riverside
24 October – Manchester, Academy 2
26 October – Brighton, Concorde 2
27 October – Cardiff, The Tramshed
28 October – Birmingham, The O2 Institute 2
30 October – London, The O2 Forum