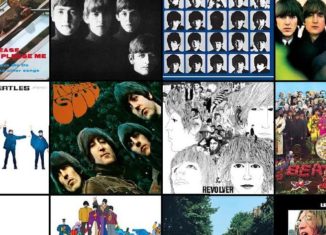 There is currently a trend on Twitter which is all about selecting a different song each day that satisfies a certain criteria. Being such big fans of The Beatles (didn't you know?), Joni has set himself the strict challenge of only selecting from their extensive songbook. It's proven not to be very difficult but a very enjoyable experience. I'm sure you'll all disagree with his selection but here goes. Either way it's a great excuse to listen to "the very best of The Beatles" (Alan Partridge quote):
Day 1 – A song you like with a colour in the title
Blackbird (The White Album – 1968)
"Blackbird singing in the dead of night"
Day 2 – A song you like with a number in the title
Revolution 1 (The White Album – 1968)
Day 3 – A song that reminds you of summertime
Good Day Sunshine (Revolver – 1966)
Obvious, but the opening is like the intense heat of the sun!
"Burns my feet as they touch the ground"
Day 4 – A song that reminds you of someone you'd rather forget
I'm So Tired (The White Album – 1968)
"And curse Sir Walter Raleigh, he was such a stupid get!"
Day 5 – A song that needs to be played loud
Helter Skelter (The White Album – 1968)
Paul McCartney is one of Ozzy Osbourne's heroes and this is one of the main reasons why
"Coming down fast!"
Day 6 – A song that makes you want to dance
I Should Have Known Better (A Hard Day's Night – 1964)
Day 7 – A song to drive to
Drive My Car (Rubber Soul – 1965)
Do you really need to ask?
Day 8 – A song about drugs or alcohol
Lucy In The Sky With Diamonds (Sgt. Pepper's Lonely Hearts Club Band – 1967)
I believe John when he says it is not a hidden message standing for L(ucy in the)S(ky with)D(iamonds) but can't help but think that his experiences with drugs up to this point had expanded his mind enough to see the imagery he sings about here.
"Picture yourself in a boat on a river, with tangerine trees and marmalade skies"
Day 9 – A song that makes you happy
And Your Bird Can Sing (Revolver – 1966)
John's retort to those who think they are big and clever
Day 10 – A song that makes you sad
Julia (The White Album – 1968)
See here for exactly why – JULIA LENNON
PART TWO TO FOLLOW…