No Hot Ashes are celebrating the release of their long awaited debut LP 'Hardship Starship' with an extensive tour of the UK and Ireland, which includes their biggest headline show to date TONIGHT at Manchester's o2 Ritz.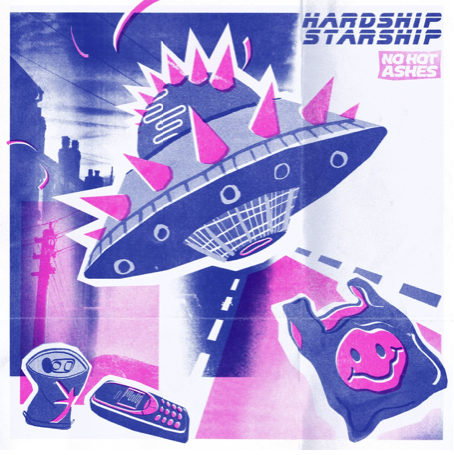 The band have been making big waves around the North-West and beyond for the last few years; receiving continued support from the likes of BBC 6 Music and Radio X, and soaking up major support slots with the likes of Blossoms, Spring King and The Amazons across the UK; not to mention major festival appearances at the likes of Y Not Festival, Isle of Wight and Kendal Calling.
We caught up for a quick chat ahead of tonight's gig…
THE INTERVIEW
J: Who inspired you to be musicians?
NO HOT ASHES: James Brown, Bootsy Collins, Red Hot Chili Peppers, Pixies. The list is endless…
J: How did the band form?
NO HOT ASHES: We met in high school/college.
J: Do you identify as a Manchester band or is it specifically Stockport? There's history and heritage either way you look at it…
NO HOT ASHES: We're proud of where we come from but Manchester is geographically more truthful as we don't all come specifically from Stockport.
J: How biographical is your music?
NO HOT ASHES: Very.
---
---
J: Your artwork really stands out – who is behind it for the Hardship Starship album and single covers?
NO HOT ASHES: That would be a very talented friend of ours called Florence Burns. Check her out on Instagram: www.instagram.com/florence.b.art
J: Chris Taylor produced the album, how was his presence felt in the studio?
NO HOT ASHES: Chris is the loveliest guy we've ever met. He's crazy talented and we had an instant connection with him. We knew he was the right man for the job as soon as we met him.
NO HOT ASHES PLAY THE RITZ TONIGHT!
J: Have you played the Ritz before? Are you ready for the bouncing dancefloor?
NHA: We have actually once before for NBHD Festival and we packed it out that day, they stopped letting people in on the door. It's a venue we've always wanted to headline and we're all very proud that we finally made it.
J: How do you all keep yourselves entertained away from music?
NHA: Drinking, photography, long walks & knitting.
J: As we approach 2020 how would you sum up the past decade?
NHA: A complete mess.
---
For more exclusive interviews click right this way! http://thejournalix.com/tag/interview/