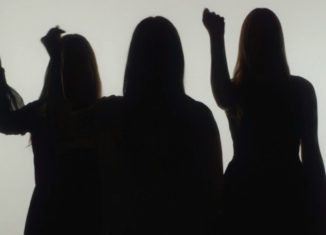 This 3-piece made up of sisters from sunny L.A. showed up on Andrew Marr's BBC Sunday morning political show after he had interviewed then British Prime Minister David Cameron, and announced that their performance was dedicated to "Dave". The song was ok, and they looked cool mainly on the back of the fact that this guitar band were attractive slim American girls in
leather jackets, and actually had the ability to play. I'd read
about the band but I wasn't convinced they were for me upon a first viewing.
That was until "If I Could Change Your Mind" was came on to my radio. It sounded unashamedly 80's and I genuinely thought it was going to be from that era. And then I saw the video, which is as polished as anything these days, no film effects, e.g. bad camera angles or fuzzy reception, but in crisp HD but the theme is dark lighting, dance routines and serious stares down the lens along with an emotion tied to the lyrics of the song.
I waited for something to indicate this wasn't serious but even now can't exactly work out what that would be. A smirk? A nerdy schoolboy character with a plaster around his glasses & braces? But still, the video is compelling and works on all levels. Check it out for yourself…
It isn't trying to play the irony card. This has been done before, The Strokes are the masters of it, but the key is they have the distorted film quality and the slightly faded garish colour themes that still manage to please the eye.
I love it and I love Haim too.