We secured our tickets months ago, and watched the social media and TV coverage of all the festivals he's played this summer. But tonight's the night us Mancunians have been waiting for. This is the biggest solo gig to date for Liam Gallagher. 50,000 fans, all ages, all there for him. Oh and don't call it Old Trafford, whatever you do.
BUZZIN'
Town is buzzing, not just with @beeinthecitymcr and the usual crowds, today its a sea of As you were and Oasis t-shirts, parkas, shades and a little added swagger. People are even singing in the street, honestly!
The trams are absolutely packed, and very hot but everyone is happy and as usual at a northern gig people chat and smile with strangers and its all so exciting.
As we arrive at LCCC security are working hard checking we all get in safely and the queue moves swiftly.
We are in.
RICHARD ASHCROFT
Portaloo, bar and into the main arena area, just in time for Richard Ashcroft. The Verve frontman certainly looks the part in his big camouflage coat, and he seems delighted to be here for the party. With lots of air punching and declaration of love for the crowd, he gets everyone singing. 'Sonnet', 'Break the Night with Colour' and 'Lucky Man' are enjoyed by the crowd. With pretty much a costume change stripping off to another jacket – bright orange and then again to a white t-shirt, 'They Don't Own Me' is a standout song with Ashcroft's voice on top form. As expected he saves a biggie for the end and despite worries of his guitar not being in tune – no one cared – and 'The Drugs Don't Work' went down a storm. Great set, everybody's happy.
LIAM GALLAGHER
So now we're waiting. Set times we've seen online aren't precise and the tension is mounting, but at 9 o'clock the lights come on, music starts and the screens light up. We get to see the main man as he walks to the stage. All in black with a shine coming from his shades, and short hair – it's unmistakably Liam Gallagher.
ROCK 'N' ROLL STAR
The crowd is going wild – then at last he appears on stage, and 'Rock 'n' Roll Star' starts… Epic. Anthem. Yes, it may be a cliché but it's been proven time and time again that this Manchester lad is indeed; for tonight at least, our very own Rock 'n' Roll Star.
The massive tunes just keep on coming, 'Morning Glory' is loud and the crowd continue to roar with Liam sounding strong. Then 'Wall of Glass', Liam Gallagher's comeback song which has the crowd once again singing along to every word. Following that with another solo hit 'Bold'.
LISTEN UP
'Bring It On Down', a big Definitely Maybe tune is massive and we don't have time to come down as he dives into 'Listen Up' which everyone is very happy to hear.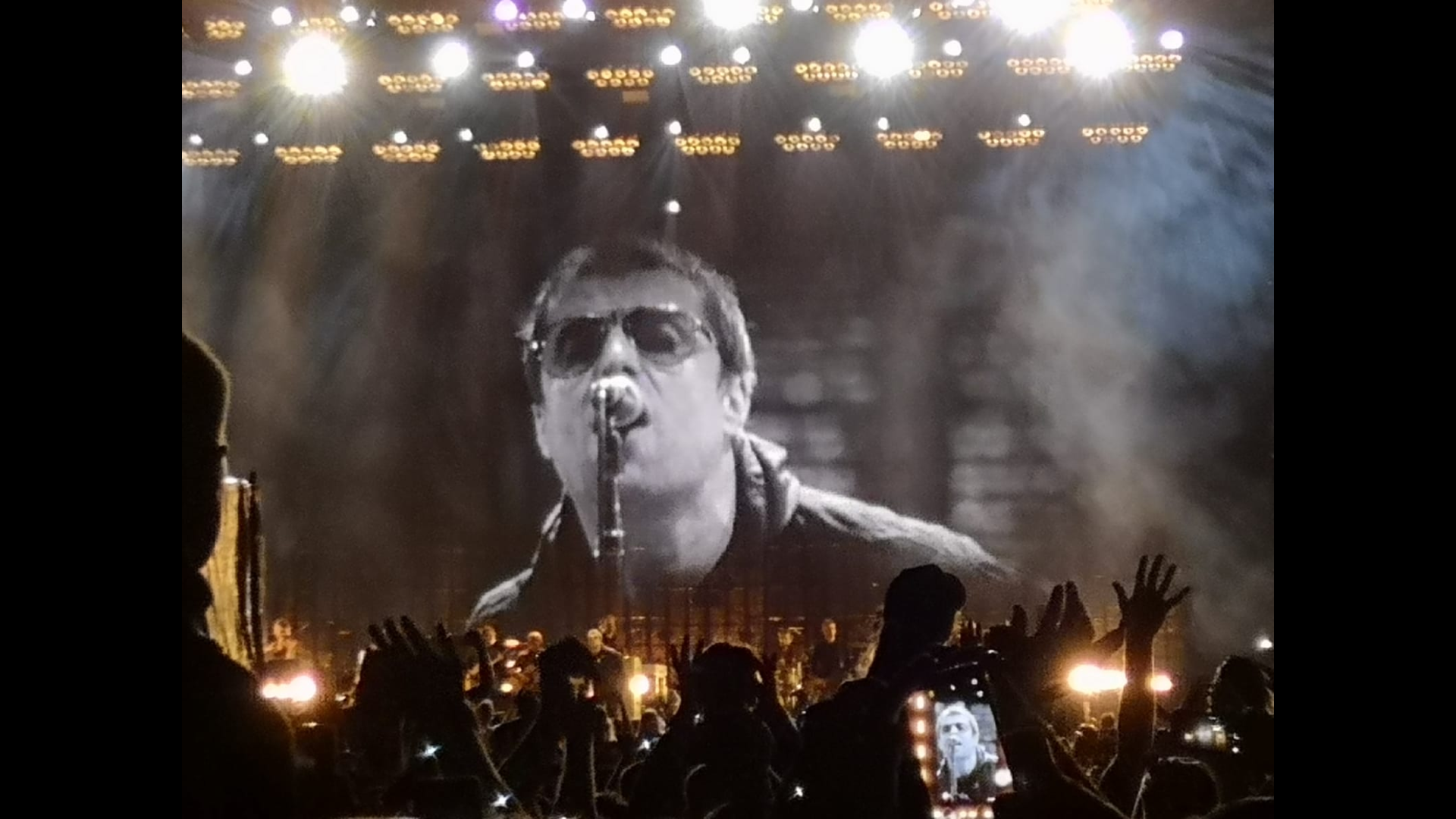 'Champagne Supernova' next, with just Liam and a piano. We've never heard it like this before and it takes us back to the 'Supersonic' Docufim (Directed by Mat Whitecross, 2016) where we had the privilege of hearing Liam recording his vocal for the song back in 1995. For this fan it was the year of my first Oasis gig (Sheffield Arena) – fast forward 23 years and it makes for a very emotional experience and it sounds fantastic!
The gig continues as we wipe a tear away now from our eye (see what we did there?!) and a slight curve ball, with Beady Eye track 'Soul Love'. Dedicated to the memory of Aretha Franklin with a beautiful picture of the singer filling the stage backdrop behind Liam, a fitting tribute.
'You Better Run' gets the crowd jumping once again. A few more spilt pints and we are ready for the strings and calmness of 'Whatever' which goes down very well.
First encore, heavy hitters 'Supersonic' and 'Some Might Say', 'Cigarettes & Alcohol' and 'Wonderwall'. Hit after hit it can be so much to take in but we relish every minute and Liam continues to sound amazing.
ENCORE x2
Second encore and we're hoping they'll be another hour to go but sadly not. He doesn't disappoint and sings 'D'Yer Wanna Be a Spaceman?'. A song we all know as a 'Shakermaker' B side originally sang by Noel. So it is a real treat to hear Liam singing it to us on this warm August night. Although, I must admit I did miss Liam's soft backing vocals that I'm used to!
Then the last song.
What else?
'Live Forever'.
The Manchester Bee and a giant 22 on the screens. A beautiful ending to an amazing gig.
Thanks Liam, it was everything we hoped for. You did us proud.
---
Revisit our archive of Liam Gallagher-related articles…