The loudest and most colourful of triumphant returns was made by Courteeners at Heaton Park on Saturday. Parklife had already warmed up, or rather severely muddied the park in preparation. With tickets in hand and raring to go 50,000 fans came from all over the UK for Courteeners biggest headline show to date.
"WHAT TOOK YOU SO LONG?"
Having not played in Manchester since their Arena show last April us fans have been waiting for this since it was announced last October.
And so the day arrived.  There's real excitement in the air, and all ages approaching the park, even teenagers with their Mums and Dads – its a real event!
PALE WAVES
Pale Waves kick off the day. The four piece Manchester Band who formed in 2014 are a great choice as first support. As their own lives shows get bigger and bigger, this is a great opportunity to catch them live. They're set to headline Manchester Academy in September, tickets on sale now.
DMAs
As the crowds, and bar queue get bigger DMAs take to the stage. Not a Manchester band this time but it would be easy to mistake them for Mancs, their sound is very indie and 90s. With a big following they are very well accepted by the people of Heaton Park. Starting with Cher's 'Believe', sounds like an odd choice but proven to be a popular DMAs live opener. The flares are even out during this set which shows the love for this band, and the crowd enjoy a singlong. Ending with the crowd bouncing 'Lay Down', the short but great set is finished.
JAMES
Now for James. Yes, James! And they start with 'Sit Down'! They certainly know how to please a crowd, Everyone starts dancing and the set goes down a storm. Tim Booth is an intense frontman, singing directly to individuals in the crowd, standing on barriers, ad even crowdsurfing, He knows how to get the party started for sure.  Finishing with 'Sometimes' (which will be heard again later, segwayed into Courteeners 'What Took You So Long'), it feels like a James gig. We're all singing, muddy feet but clear skies. Could the rain hold off for the main act? Fingers crossed.
And so we wait.
Blue skies appear.
The weather forecast was wrong.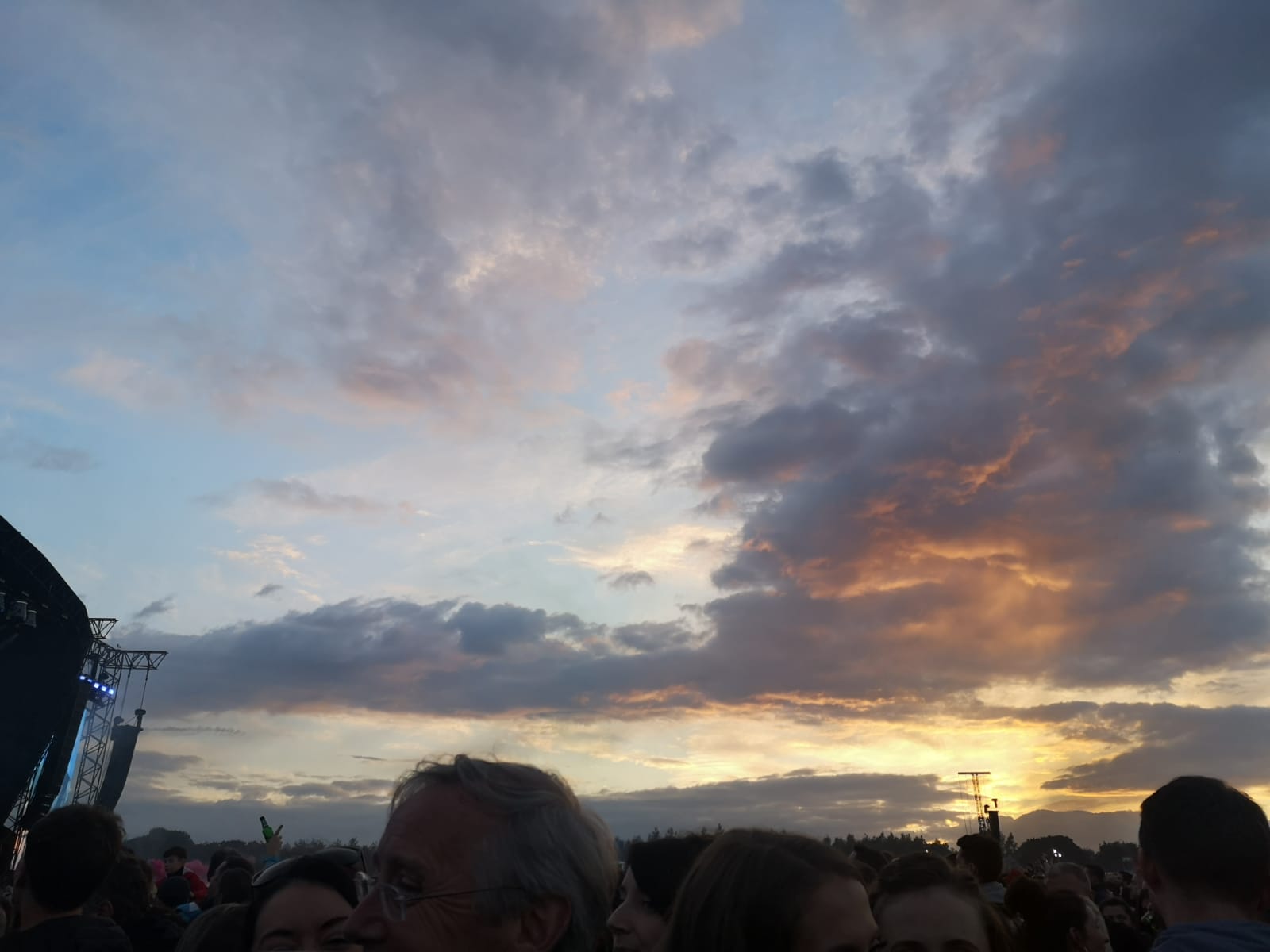 HERE COME THE YOUNG MEN
Out Courteeners come. The crowd goes wild!
Starting with 'Are You in Love with a Notion?' 50,000 are euphoric and the confetti canons go off – we all love a confetti canon right? Every single word, and at times guitar riffs are sang. It's loud, there are flares – which continue it seems throughout the whole show, and the band are loving it just as much as we are. Original members Conan (guitar), Campbell (drums) and Liam Fray sound so tight, with the lead singers voice as good as ever.
TAKE OVER THE WORLD
To be playing down the road from their hometown of Middleton for the second time in their career must be somewhat exciting. And double the crowd size to last time too! With Cross (bass), once in the role of producer but now a firm member of the band and newest addition of Elina Lin on keyboards and backing vocals, the career-spanning, crowd-pleasing anthems just keep on coming.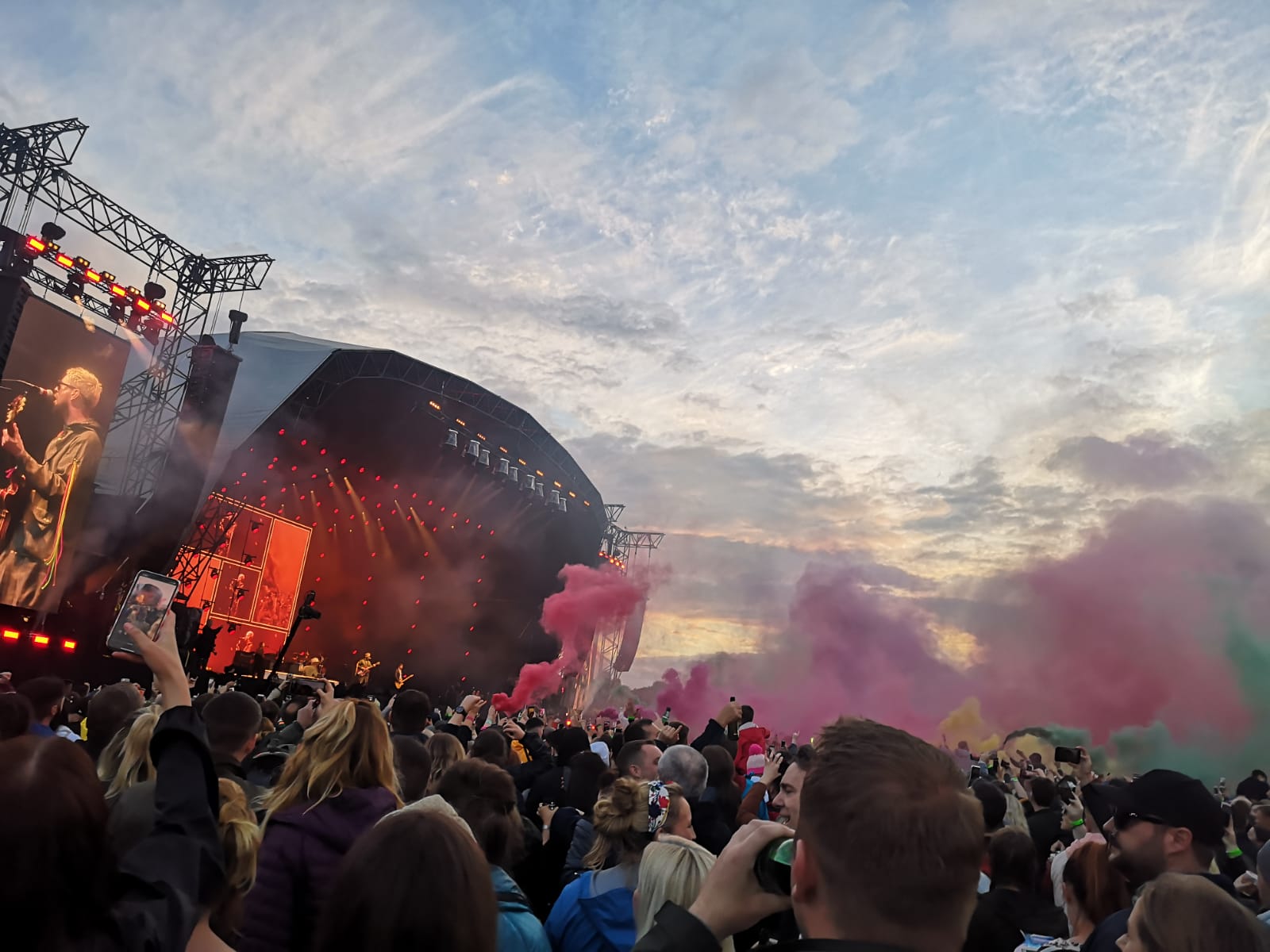 A RAINBOW OF FLARES
'Acrylic' (2008), 'No-One Will Ever Replace Us' (2016), 'Summer' (2014) and even a new tune, 'Better Man' follow. The crowd is truly spoilt, and indeed the crowd itself is a sight to behold, with a rainbow of flares on display. But its not just heavy guitar bangers that get the crowd singing. 'Small Bones' and even 'The 17th' are much loved due to the lyrics and sentiment of the songs. You only need a quick # search on insta to see the tattoos that have been inspired from so many of these beautiful tunes. They mean so much to so many people.
OBLIGATORY SUNGLASSES
The band look great. Cool black for several band members. Obligatory sunglasses for most, of course. But for our lead man, a tassled coat (designed by him and made by his sister – a talented family indeed!) and beneath that a khaki jumpsuit – a great look, despite how it might sound.
Fray then does his usual individual set including the much loved 'Smiths Disco'. Talking to the crowd, the band are so thankful and evidently loving the performance as all return to the stage for the encore.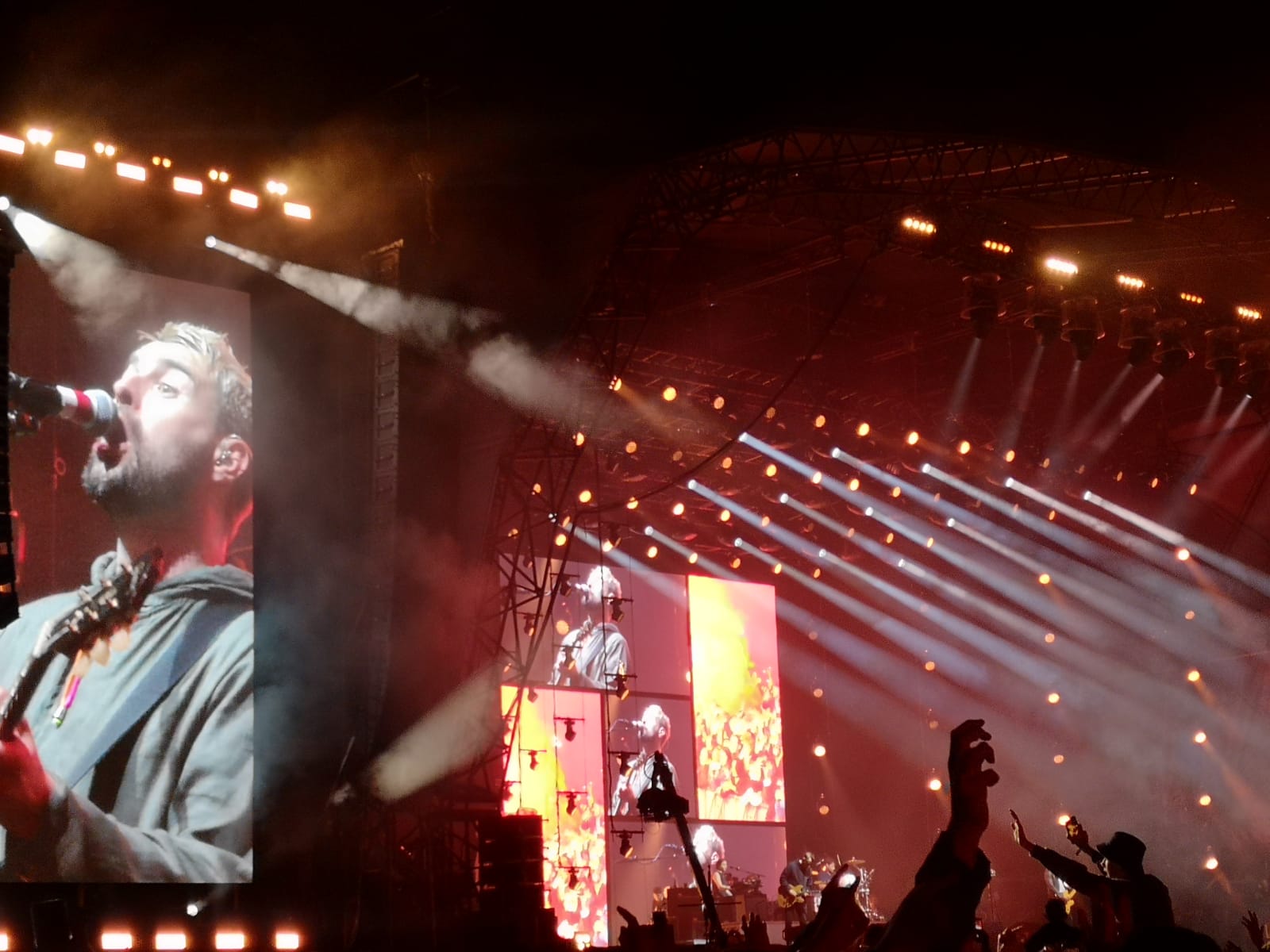 "NO-ONE WILL EVER REPLACE US"
We didn't want it to end. 'Cavorting' and 'Modern Love' go down a storm, whilst the sunset over North Manchester is quite the opposite might we add. 'Not Nineteen Forever' is our last song. Such a moment, so Mancunian, an absolute classic.
This is a gig we'll all remember, old fans and new have had an amazing night.
A true Manchester band, who make the tunes for us and put on a truly great show.
Manchester loves you.
Come back soon.
---
Manchester gig reviews a plenty here at The Journalix: http://thejournalix.com/tag/gig/