It's that time of year again folks! With a ring of a bell Manchester International Festival 2019 has officially begun and events are up and running. Wednesday saw BBC Introducing Manchester takeover, with artists and crowd celebrating this great city as one.
After a quick bite in Piccolino's (the mushroom risotto is exquisite), I headed across the road to Albert Square. Past the usual security gates we've all become accustomed to, it has been completely transformed! Aptly renamed "Festival Square" for the next month and decorated with food stalls, bars – including a very welcome accessible bar for wheelchair users only. The selection of flowers in particular looking gorgeous around the MIF logo in front of the Town Hall gives a feeling of luxury. But don't be fooled – most of the events are free to attend. When the sun is shining, with plenty of deckchairs and hipster folk to mix with and enjoy the surroundings you can be excused for spending most of July here if you choose.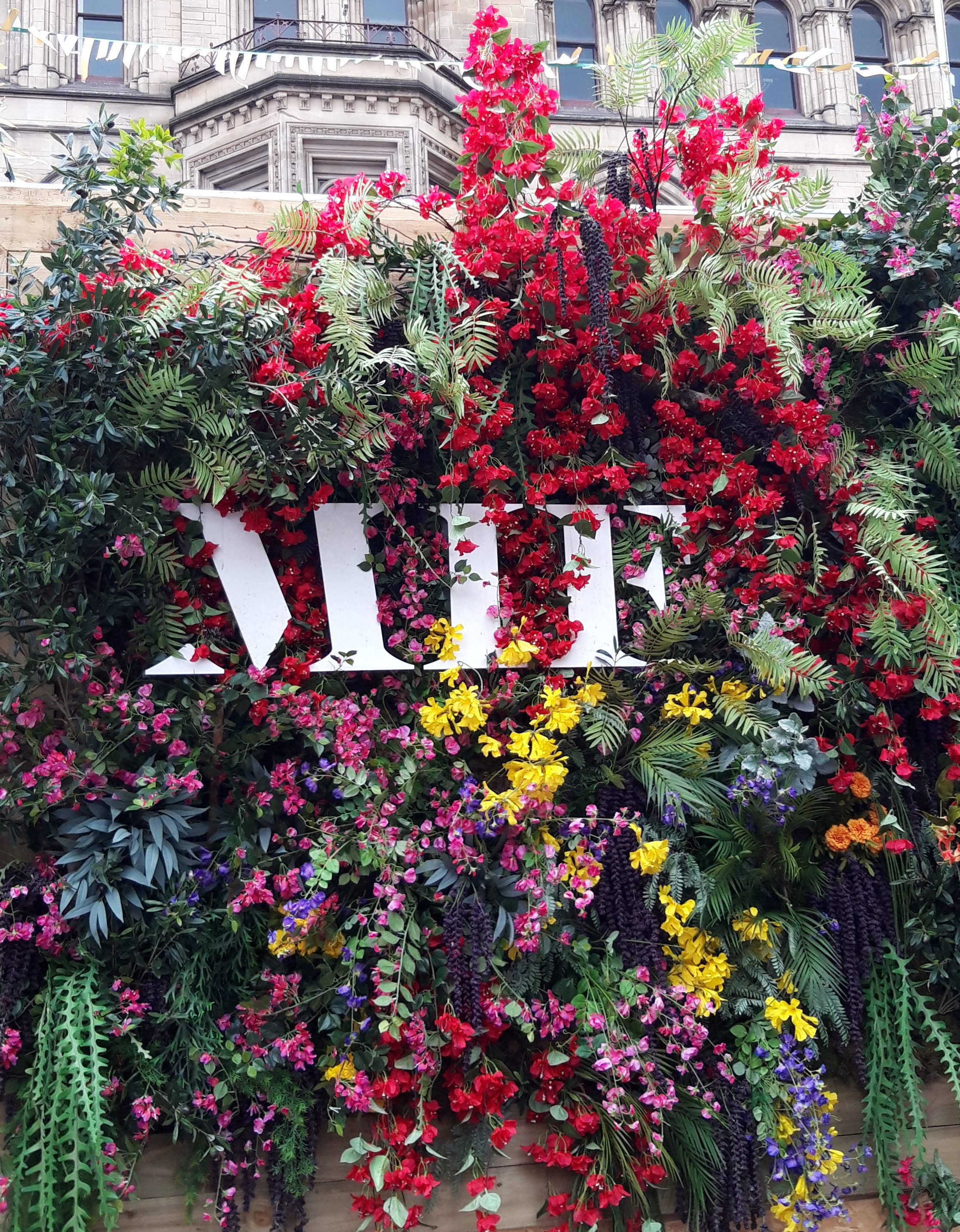 The BBC has a dedicated studio for broadcasting live – don't forget to read our interview with Mary Anne Hobbs. But on this occasion we're here for the central live stage…
BBC INTRODUCING MANCHESTER
It was an opportunity for me to see some musicians I've heard plenty about but never seen in the flesh. This was also a timely reminder that beyond the chart-topping Blossoms, The 1975's continued efforts for world-domination and the ever-present Gallagher brothers, Manchester has a wealth of musical talent to celebrate.
If you don't know already, BBC Introducing gives a platform to up-and-coming musicians, often unsigned, to plug music on their local radio station. For BBC Manchester, Michelle Hussey and Natalie-Eve Williams present most Saturday nights at 8pm. I tend to listen back on the ever-growing archive available on the BBC Sounds app. Over the years the show has introduced the aforementioned Blossoms and The 1975 long before the mainstream stations caught on. And many more. It's a must-listen for anyone who wants to keep up with the latest trends.
LIAM FROST
First up was Liam Frost. Not Liam Fray. Admittedly I couldn't tell the 2 apart for a period as they would each play solo sets around the city, until one of them decided to start a band and the rest is history. But what for his namesake? He never quite had that breakout song via YouTube that seems to decide who our pop stars are these days. Certainly not short of talent though and it was almost a rite-of-passage to finally see him play. I really enjoyed his performance; stood solo with guitar in hand and there are some beautiful songs on his forthcoming album The Latchkey Kid – due for release in September. Click here for a preview of latest single Pomona:
ARGH KID
Next on the stage was alternative wise-cracking rapper ARGH KID. Longsight's equivalent to Mike Skinner; full of strong opinions and witty lyrics. There is often a political message in amongst his act but here he was at his infectious best during a 4-song set. He told us of his mistakes with drugs and alcohol but with cynicism and good humour. The perfect act for this kind of night, giving great exposure to a local artist in the heart of the city. And you could tell he appreciated the opportunity too.
PHOEBE GREEN
Enter the third act: Phoebe Green. Self-described as the North of England's Shirley Temple, Manchester-based Green delighted the crowd with her seductive indie pop. Long-supported by the BBC Introducing gang she's now getting Radio 1 airtime and with production on her latest songs by Everything Everything's Alex Robertshaw, she's destined for the toppermost top. Her on-stage presence is quite reserved. But there's clearly a confidence in her craft, which has been honed during a support slot for Sundara Karma earlier this year. Her appearance tonight worked perfectly in making me want to hear a lot more. You can too right here:
ONEDA & THE MOUSE OUTFIT
Much like ARGH KID, headliners OneDa (said like "Wanda"… but remember this?) backed by DJ The Mouse Outfit were here to celebrate playing a gig in the heart of their city. It is quite fitting in today's ground-breaking era of equality (there's still a long way to go, of course) to have a black female artist headline but she justified the billing completely with the crowd in the palm of her hand from the off. It may have been helped by a mix of the alcohol on sale from the many bars at the periphery of the square and there was clearly a loyal following of hers present. But whatever it was she had all the melodic tones and skillful word play we needed to the end the night on a high.
She wasn't necessarily the typical guitar band I'd usually associate with the BBC Introducing show, but definitely a good representation for the city. A rousing finish to what was a buzzing night all round.