Hey spook-fans, how's it hanging?
Joni here wearing far too much makeup and eyeliner than I usually would but in good spirits and ready to scream all night long to my favourite alternative Halloween tooooooooooooons!
Join us…
Dracula Teeth – The Last Shadow Puppets (Everything You've Come to Expect – 2016)
Bones – The Killers (Sam's Town – 2006)
Video directed by Tim Burton, the perfect way to kick things off!
Lights Out – Royal Blood (How Did We Get So Dark? – 2017)
Heads Will Roll – Yeah Yeah Yeahs (It's Blitz! – 2009)
This music video is directed by Richard Ayoade, who you may know better as Moss from the IT Crowd, but he should be taken seriously as a director these days, not just music videos (Arctic Monkeys, Kasabian, Vampire Weekend) but feature length movies too (Submarine, The Double). Actually let's stick another of his in here…
Vlad the Impaler – Kasabian (West Ryder Pauper Lunatic Asylum – 2009)
Ghost Town – The Specials (1981)
We love the original artwork for the single: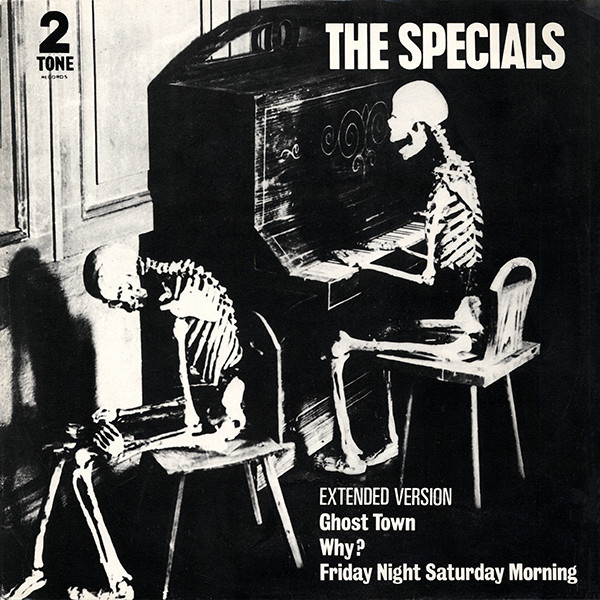 As if you need one more reason – Edgar Wright and Simon Pegg put it on the Shaun of the Dead soundtrack.
Burn the Witch – Radiohead (A Moon Shaped Pool – 2016)
The Wicker Man vibe pitches things perfectly for our #playlist.
Die, All Right! – The Hives (Veni Vidi Vicious – 2000)
The Hives have a number of songs we could have picked:
Mad Man (A.K.A. I-D-I-O-T – 1998)
A Get Together to Tear it Apart (Veni Vidi Vicious – 2000)
See Through Head (Tyrannosaurus Hives – 2004)
Dead Quote Olympics (Tyrannosaurus Hives – 2004)
Tick Tick Boom! (The Black and White Album – 2007)
You Dress Up for Armageddon (The Black and White Album – 2007)
Civilization's Dying (Tarred and Feathered EP – 2010)
Midnight Shifter (Lex Hives – 2012)
Insane (Lex Hives – 2012)
That doesn't include any tracks from the 1998 EP A Killer Among Us.
And if you didn't know already, the band members are as follows: Howlin' Pelle, Nicholaus Arson, Vigilante Carlstroem, Dr. Matt Destruction and Chris Dangerous
My Boy Builds Coffins – Florence + the Machine (Lungs – 2009)
No One Knows – Queens of the Stone Age (Songs for the Deaf – 2002)
A freaky deaky promotional video which if anything is good value for highlighting Dave Grohl's time in the band. But altogether this is a dark outfit with a twisted conclusion and they play on it well…